With a guitar emblazoned with a sticker reading "this machine kills fascists," Woody Guthrie roamed the country, chronicling the struggles of migrant workers, weary hobos, and farmers bankrupted by the Great Depression. His celebrated 1940 song, "This Land Is Your Land," is still performed (and misinterpreted) at demonstrations of every political stripe. He has been an idol to Bob Dylan and Pete Seeger, Wilco and Billy Bragg.
Less recognized are Guthrie's broader cultural passions — his encounters in New York City with the painters Jackson Pollock and Willem de Kooning, his admiration for the music of John Cage (once prompting a fan letter to his record label), and his links to the Martha Graham Dance Company (he would marry a key member of the troupe).
This complex and contradictory persona served as a touchstone for composer Michael Daugherty in This Land Sings: Inspired by the Life and Times of Woody Guthrie, a cycle of 17 vocal and instrumental pieces that honor the Dust Bowl balladeer, born in Okemah, Oklahoma in 1912. The work has been released on a Naxos recording by conductor David Alan Miller and his ensemble Dogs of Desire.
"Guthrie pretty much made his career by just playing these one-night stands in union halls and farm fields and street corners and wherever he could draw an audience," said Daugherty, a multiple Grammy Award winner. "He was just traveling from town to town, crisscrossing America for about 20 years." 
"But he knew who John Cage was and he knew classical music. He read poetry and philosophy. He loved to go to museums and look at art. He wrote articles for newspapers. So he had a very wide palette of interests. But we have this image of him being this kind of rough country guy." 
Commissioned and premiered in 2016 by the Tulsa Camerata, This Land Sings is Daugherty's latest composition to peel away the layers of an American cultural icon. He has previously paid musical homage to Ernest Hemingway (Tales of Hemingway), Abraham Lincoln (Letters from Lincoln), Elvis Presley (Dead Elvis),and Liberace (Le Tombeau de Liberace). Other pieces, including Route 66 and Sunset Strip, reflect Daugherty's passion for traveling the open road, an interest he developed as a child of the 1960s in Cedar Rapids, Iowa.
Composer Michael Daugherty. (Photo: Yopie Prins)
Hard Travelin'
As research, Daugherty visited the Woody Guthrie Center in Tulsa, before spending two weeks driving the back roads of Oklahoma and Texas, accompanied by a playlist of "pretty much everything Guthrie ever recorded." Among other stops was Pampa, a Texas oil boomtown where Guthrie lived from 1929 to 1937."I'd be on these back roads with these big dust storms coming through, especially in Central Texas," Daugherty recalled. "My entire car was covered with dust and sand." He acknowledges that these phenomena pale in comparison to the vast storms that blackened the skies in the mid-1930s, a product of drought and the overgrazing of land.
Among the selections in This Land Sings is "Hear the Dust Blow," which recasts the traditional song "Down in the Valley" as a minor-key lament, evoking the towns and farms devastated by the storms. Other numbers include "Hot Air," about a fiery conservative radio host named Father Coughlin ("he was like the Rush Limbaugh of his time, with millions of listeners," says Daugherty) and "Silver Bullet," which imagines Guthrie, a pacifist who served in World War II, faced with a rabid gun enthusiast.
Then, "Graceland" comments on workers' rights, focusing on Chicago's Graceland Cemetery, where the wealthy spent their fortunes on fancy tombstones. In a nod to the other Graceland, the piece has an Elvis-like swagger.To convey the lean Depression years, Daugherty scored This Land Sings for a nine-piece chamber ensemble along with two singers (vocalist Annika Socolofsky and baritone John Daugherty) and optional parts for harmonica and radio announcer (the latter is not included on the recording, due to time constraints). The work is structured to evoke a Grand Ole Opry radio broadcast.
A Texas dust storm in 1935. (Photo: Library of Congress)
David Alan Miller, who has conducted several of Daugherty's previous scores, describes the piece as "a musical biopic of Guthrie's life, told in a very clever way. While not an overtly political statement, it's very much about Guthrie's very progressive ideas, about society and brother- and sisterhood, and about human kindness and the human condition." He adds, "Michael channels this great ability to transform country and folk music ideas into an orchestral ensemble."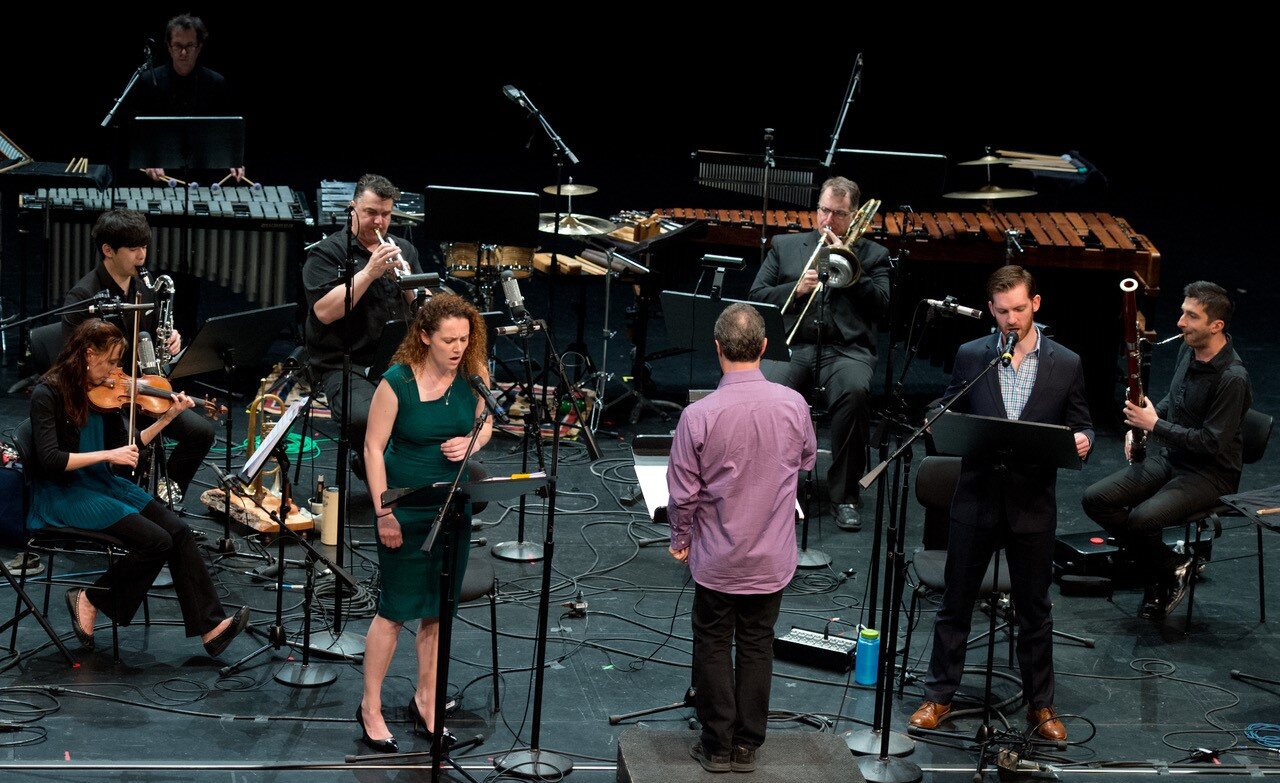 (Pictured above, left to right: Albany Symphony Music Director David Alan Miller, baritone John Daugherty, soprano Annika Socolofsky, and the Dogs of Desire ensemble. Photo credit: Chris Shields)

Ligeti to Presley
Daugherty's freewheeling musical language is rooted in studies at Yale University, Pierre Boulez's IRCAM, and with the modernist master György Ligeti in Hamburg, Germany. He once served as an assistant to the jazz arranger Gil Evans, and these days, he cites a mélange of influences: Frank Sinatra, Elvis Presley, 1940s and '50s film scores, and 300 years of orchestral music. "So all those elements kind of come together," he notes.
Having spent much of his career teaching composition at the University of Michigan in Ann Arbor, Daugherty sees the Midwest as a cultural crossroads — "a common point for everything going on in America." His zeal for American landscapes provided an entry point to the world of Guthrie, who hitchhiked, walked and road freight trains from coast to coast. It came to an end when Guthrie lost his long battle with Huntington's Disease in 1967.
"If he wrote music but never left his room and never associated with people, I would probably have no interest in Woody Guthrie," Daugherty said with a chuckle. "But he loved going around America. He was a man on the move."
- Written by Brian Wise
Brian Wise writes about classical music for BBC Music Magazine, Musical America, and is the producer of the Chicago Symphony Orchestra's national radio broadcasts.